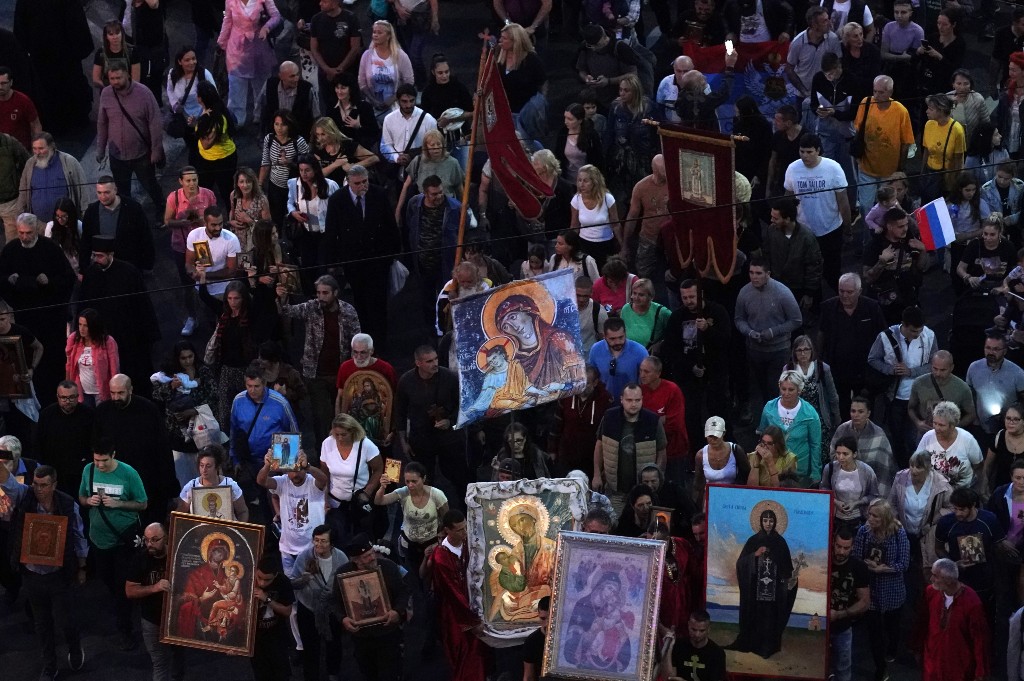 Serbia's decision to cancel EuroPride shows how Vučić plays in the West against Russia and his base
The Serbian government is set to cancel a long-planned parade in Belgrade this Saturday as part of the annual pan-European demonstration EuroPride celebration, held each year in a different European city, after the parade of thousands of religious conservatives September 11th to, as they say, protect Serbian "traditional values". President Alexander Vucic decision last month to cancel the week-long celebration and the announcement by Serbian police on September 13 that he was Saturday parade ban may be part of its strategy of constantly playing Western and Serbian moderates against Moscow and its domestic right-wing base. The decisions and events of EuroPride, for example, should be seen in the context of Vučić's decisions around the same time to join a European Union-United States-brokered agreement on border disputes with Kosovo.
Vučić's decision to cancel EuroPride contrasts with Serbia's historic role as one of the most pro-LGBTQ countries in the Balkans. Serbian activists have been organizing marches since 2001, and in 2014 Vučić took steps to support these activists by authorizing and mobilizing the police to protect the marchers from the threat of violent right-wing protesters. This official support gave the marches an air of legitimacy, and Pride events in Serbia have since attracted activists from across the region, including members of the European Union parliament and the Western diplomatic corps. Pride marches have been violence-free since 2014 and have normalized.
This gave Belgrade Pride enough political support from European LGBTQ groups and the Serbian government to support Belgrade Pride's bid to host European Pride (EuroPride) in 2022. This is the first time that a Slavic country hosts European Pride and a big step forward by Serbia. in favor of European LGBTQ human rights.
Why then take this step to cancel EuroPride, which is sure to upset the leaders of many Western governments and human rights organizations, even as Vučić continues to at least pretend to express the aspirations of the country to join the EU? The move illustrates how Vučić's power rests largely on his ability to balance the West and Russia, in turn placating and extracting concessions and promises from each as they fear Serbia will fall under the influence from the other side.
This constant play is evident in everything Vučić does. He refuse join the EU sanctions against Russia in the spring, but declared in June – as he often does – that join the EU is in Serbia's best interest. On the same day he announced the cancellation of the EuroPride event, on August 27 he also said he would suggest that openly lesbian Prime Minister Ana Brnabić be re-elected by the National Assembly of Serbia for an unprecedented third term as head of her cabinet. She has since been re-elected. This balancing act enabled Vučić to negotiate, among other things, favorable arms deals with Moscow, while bringing in significant economic aid from the EU.
As a young member of the Serbian Parliament in 1995, Vučić in a now infamous speeches during the war in neighboring Bosnia, sworn in the Serbian parliament that "for every Serb killed, we will kill 100 Muslims". Within a few years, he joined the government of Slobodan Milošević, serving as Minister of Information during the 1998-1999 war in Kosovo.
Today's elder Vučić is more pragmatic, a man who pledges allegiance to Moscow but understands that he needs the West for Serbia's financial survival – and his own, via membership to the EU and the generous economic support that comes with it. During his tenure, Vučić toned down his rhetoric to some degree and pledged to bring Serbia closer to the EU, but still regularly takes steps that seem more aligned with the Kremlin than with Brussels.
The intersection of EuroPride events with the Serbia-Kosovo border dispute was typical. On August 27, the same day Vučić sought to cancel EuroPride, he not only endorsed Brnabić again as prime minister, but also concluded an agreement negotiated by the EU and the United States with Kosovo to resolve their dispute over identification for border crossings. The deal would no doubt have angered the Kremlin, which has been among the outliers in the world in rejecting recognition of Kosovo's sovereignty since declaring independence from Serbia in 2008. Vučić's agreement with Kosovo, on August 26, US Deputy Assistant Secretary of State for Europe and Eurasia Gabriel Escobar had declared that it was time to forget the narrative that "Kosovo is Serbia" and start saying that "Kosovo and Serbia are in fact Europe". Russian Foreign Ministry spokeswoman Maria Zakharova quickly replied, "Never."
Moscow, of course, has also long been vocal about its own phobias about LGBTQ rights issues. In 2013, for example, Putin's regime stepped up its campaign against LGBTQ Russians with "Gay Propaganda" Laws which banned information to minors about LGBTQ issues, essentially a dog whistle against gays and lesbians and homosexuality. These onerous laws are bolstered by the Russian government's close relationship with the Russian Orthodox Church, which the Kremlin has long used as an instrument of foreign interference and the seed of chaos, including in the Balkans.
The Russian Orthodox Church has close relations with the Serbian Orthodox Church, which organized the right-wing protest last weekend in Belgrade, according to the Associated press, and both churches are known to have close ties to their respective governments. Both churches seek to safeguard what they perceive as the "traditional values" of their respective societies, so it was no surprise that Serbian Patriarch Porfirije backed the Serbian government's decision to cancel EuroPride, which he says , was not in compliance with traditional Serbian values ​​- "the pillars on which our identity has been built for centuries". Porfirije's stance mirrors that of the Russian Orthodox Church, which for years has been a vocal opponent of holding public pride events in Russia. In fact, the right-wing demonstration in Belgrade last weekend even featured Russian flags and portraits of Putin, AP reported.
It is clear that the decisions of Vučić's government against EuroPride mark only the latest iteration of its manipulative balance between the West and more moderate forces in Serbia on the one hand and Russia and its far-right base on the other. go. The West must ensure that its strategy of playing these camps against each other, to the detriment of the EU values ​​that Serbia must adopt to become a member, backfires and understands the complex games that Vučić is playing . Make no mistake: Without restraint, Vučić's anti-Western and anti-human rights rulings will only get more extreme.
IMAGE: Orthodox Christian believers hold icons as part of a 'common prayer for the salvation of Serbia' on September 11, 2022, during a 'marriage and family' rally in Belgrade called by the Church Serbian Orthodox against an upcoming EuroPride event. Thousands of demonstrators protested against the upcoming pan-European EuroPride celebration in the Serbian capital Belgrade on September 11, 2022, days before the LGBTQ community rally was to be held. Tensions are simmering in the capital, with Pride organizers vowing to go ahead with the rally scheduled for September 17, 2022, after the Serbian government withdrew its support for the event. (Photo by OLIVER BUNIC/AFP via Getty Images)