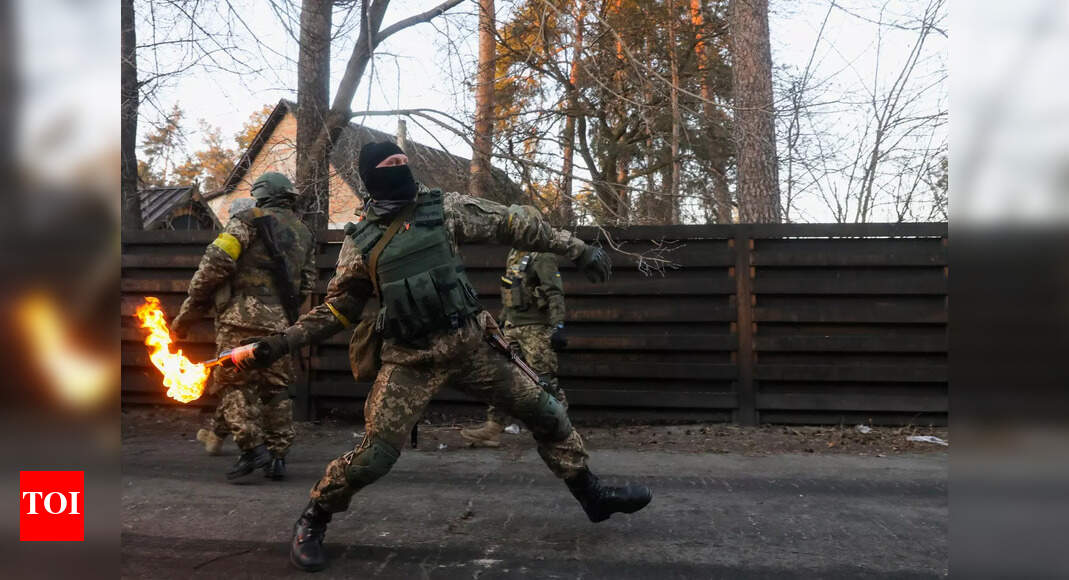 Russia: Russian Troops Advance on kyiv, Zelenskyy Ready for Negotiations in Jerusalem: Key Developments
NEW DELHI: Russia is stepping up its attack on Ukraine as its forces bombard towns across the country with aircraft and artillery. Satellite images showed Russian troops appearing to regroup for a possible assault on kyiv as they closed in on the Ukrainian capital.
As Russia steps up its bombardment and talks between Moscow and kyiv appear to be going nowhere, Ukrainian President Volodymr Zelenskyy's pleas for NATO to intervene have grown increasingly desperate.
On Friday, US President Joe Biden again ruled out direct action against nuclear-armed Russia, warning it would lead to "World War III".
Here are the latest developments in the conflict:
New areas of western Ukraine came under attack on Friday, as Ukrainian authorities said Russian airstrikes hit the western cities of Ivano-Frankivsk and Lutsk, far from Russia's main targets elsewhere in the country.
Russians push towards Kyiv, maintain siege of other cities
Russian forces appeared to be advancing from the northeast in their slow fight towards the Ukrainian capital, while tanks and artillery pounded places already besieged with shelling.
New commercial satellite images have emerged capturing artillery fire over residential areas between the Russians and the capital. Images from Maxar Technologies showed muzzle flashes and smoke from the big guns, as well as impact craters and burning houses in the town of Moschun outside kyiv, the company said.
The Russian Defense Ministry also said on Friday that an offensive, led by fighters from the breakaway region of Donetsk, was further squeezing the southern port city of Mariupol. Ukrainian Deputy Prime Minister Iryna Vereshchuk said some 1,300 civilians had been killed in Mariupol throughout the siege, but the figure could not be independently verified.
Three more Russian airstrikes hit the industrial city of Dnipro in eastern Ukraine on Friday, killing at least one person, according to the Ukrainian Interior Ministry.
Thousands of civilians and soldiers on both sides are said to have been killed during the invasion.
Zelenskyy open for interviews with
Putin
in israel
Ukrainian President Volodymyr Zelenskyy said he was open to talks with Russian President Vladimir Putin in Israel, but only if there was a ceasefire in place.
Zelenskyy said on Saturday he had told Israeli Prime Minister Naftali Bennett he would be ready to meet Putin in Jerusalem. Bennett traveled to Moscow for a meeting with Putin and spoke several times with Zelenskyy and the leaders of France and Germany as he sought to help mediate an end to the war.
Putin ignored many previous offers of talks from Zelenskyy.
Speaking at a press conference, Zelenskyy said the Russians could only take the Ukrainian capital "if they kill us all".
"If that is their goal, let them come," he said. "If they carry out bombings and erase the historical memory of the whole region, the history of Kyivan Rus, the history of Europe, they could enter kyiv but they will have to go back to this land alone, certainly without us.
Zelenskyy also lamented NATO's refusal to declare a no-fly zone over Ukraine despite its repeated calls. He said Ukraine has been looking for ways to procure air defense assets, but he gave no details.
More US troops deploying to support NATO allies
US soldiers continue to deploy to Europe, joining thousands already sent overseas to support NATO allies amid Russia's invasion of Ukraine.
About 130 soldiers from the 87th Division Support Battalion of the 3rd Division Support Brigade gathered Friday at Hunter Airfield in Savannah, Ga., and departed on a charter flight.
The soldiers join the roughly 3,800 troops from the Army's 3rd Infantry Division who recently deployed from nearby Fort Stewart.
A division commander said soldiers had to prepare for about six months overseas. The Pentagon has ordered about 12,000 troops in total from various US bases to Europe.
The soldiers' mission is to train alongside military units of NATO allies in a show of force aimed at deterring further aggression from Russia. The Pentagon stressed that US forces are not deployed to fight in Ukraine.
Ukraine accuses Russia of bombing a mosque in Mariupol
The Ukrainian government said the Russian military shelled a mosque housing more than 80 people in the besieged city of Mariupol.
A government statement released on Saturday reported no immediate casualties.
The Ukrainian embassy in Turkey reported earlier that a group of 86 Turkish nationals, including 34 children, were among those seeking refuge from an ongoing Russian attack on the beleaguered port city.
An embassy spokeswoman cited information from the town's mayor.
Ukraine hopes Russia will respect ceasefire to allow evacuation of civilians
Several humanitarian corridors out of Ukrainian towns and villages, including from the beleaguered southern port of Mariupol, will be opened on Saturday so civilians can leave, Ukrainian Deputy Prime Minister Iryna Vereshchuk said, adding that she hoped Russia would observe. a ceasefire to allow that to happen.
She said Ukraine plans to evacuate residents from several towns and villages in Kyiv and Sumy regions and some other areas where fighting is ongoing.
"I hope the day will go well, all planned routes will be open and Russia will fulfill its obligations to guarantee the ceasefire regime," Vereshchuk said in a video address.
Efforts to provide safe passage for residents of Mariupol have repeatedly failed this week.
Who are the "volunteer" fighters for Russia and Ukraine?
Putin has approved the arrival of "volunteer" fighters from Syria and other countries to join the Russian offensive. The Russian defense minister said there had been "more than 16,000 applications" from the Middle East. He said many were from people who fought alongside Russia against the Islamic State group.
Kremlin spokesman Dmitry Peskov confirmed the recruits included fighters from Syria, where Russia intervened in the civil war in 2015 alongside President Bashar Assad.
Meanwhile, the Ukrainian government claims that around 20,000 foreigners have joined the so-called International Legion for the Territorial Defense of Ukraine to fight the Russians.
Pro-Ukrainian fighters receive weapons upon arrival. A hundred Americans are among the fighters. The UK has warned veterans not to travel to Ukraine to fight there, saying those who do will be court-martialled.
Are people being safely evacuated from Ukraine?
Ukrainian authorities have said that there are plans for several evacuation routes and the delivery of humanitarian aid. The top priority remains freeing the people of Mariupol city and bringing aid to its desperate population.
Buses were sent to several Kyiv suburbs on Friday to bring people to the capital, where authorities say half of the metropolitan area's population, around 2 million, have already fled.
Efforts have also been made to create new humanitarian corridors around the cities of Kherson in the south, Chernihiv in the north and Kharkiv in the east. Russian forces were blockading Kharkiv and pushing their offensive south around three towns and villages, including the Ukrainian president's hometown of Kryvyi Rih.
What about Russia's claims that biological weapons are being developed in Ukraine?
Russia has requested a meeting of the UN Security Council to discuss its baseless claims that the United States was carrying out "biological activities" in Ukraine – an allegation that has been denied by Washington and Kyiv.
At Friday's meeting, the United States accused Russia of "lying and spreading disinformation" in a possible false flag operation _ a scenario that US Secretary of State Antony Blinken warned last month could come as Putin seeks to justify his violent attack on Ukraine. US Ambassador Linda Thomas-Greenfield said on Friday that the United States believed Russia might use chemical or biological agents.
The Pentagon said Friday it supports Ukrainian labs dedicated to identifying and responding to biological threats. The laboratories are owned and operated by Ukraine. The work of the labs is not secret and experts say they are not used for biological weapons.
China, meanwhile, amplifies unsubstantiated and inflammatory claims.
What is the view from inside Russia?
Moscow is increasingly taking steps to restrict access to foreign
social media platforms
. On Friday, Russia's communications and media regulator said it was blocking access to Instagram because it was used to call for violence against Russian soldiers.
It comes after Facebook owner Meta Platforms, which also owns Instagram, said it had "made allowance for forms of political expression that would normally violate our rules on violent speech, such as 'death to "Russian invaders". Meta's statement stressed that she would not allow credible calls for violence against Russian civilians.
Russia has already blocked access to Facebook and restricted access to Twitter, but Twitter has launched a privacy-protected version of its site to circumvent surveillance and censorship.
Meanwhile, YouTube has begun blocking global access to channels associated with Russian state-funded media and said it is removing content about Russia's invasion of Ukraine that violates its minimization policy. or the trivialization of "well-documented violent events".
Meta banned Russian state media from using Instagram and Facebook.
Are other sanctions imposed on Russia?
US President Joe Biden on Friday announced an agreement with other countries to revoke Russia's "most favored nation" trade status, which would allow higher tariffs to be imposed on Russian imports.
The United States has also banned imports of Russian seafood, alcohol, and diamonds.
Western nations were largely united in punishing Russia economically.
French President Emmanuel Macron said on Friday that the European Union would continue to pressure Moscow and consider all options for more sanctions if Putin steps up bombing and besieges kyiv.
(With agency contributions)