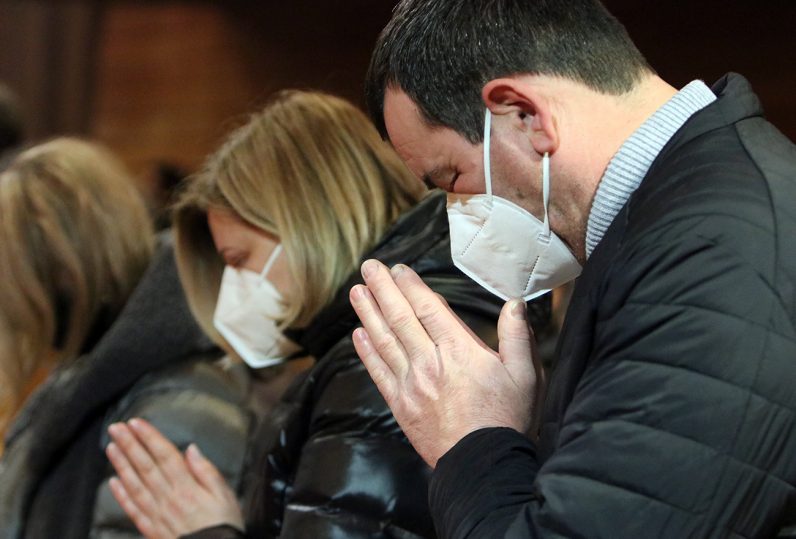 Local Ukrainian faithful unite in prayer amid shock of invasion – Catholic Philly
By Gina Christian • Published on February 25, 2022
Local Ukrainian worshipers face Russia's invasion of Ukraine this week with a mixture of shock, disbelief and fear – as well as intense faith and hope.
Some 200 people gathered for the Feb. 24 evening liturgy at St. Michael the Archangel Ukrainian Catholic Church in Jenkintown, a standing room gathering that was followed by a moleben (an intercessory service) to Mary , the Mother of God.
Ahead of the liturgy, celebrant and pastor Bishop Andriy Rabiy – whose parents and younger brother live in western Ukraine – admitted he first had to "crystallize his own feelings" over the news before take care of others.
At an earlier Mass, "it was difficult to speak," he said. "I saw a lot of people choking, and you yourself have the same kind of emotion."
At last night's liturgy several people wiped away tears, with one woman refusing to be interviewed by CatholicPhilly.com because she felt 'too upset'.
Dimo Dimov and his wife Maria Ostashuk fear for their son, daughter-in-law and two grandchildren in western Ukraine.
"They are fine; we spoke with them," Dimov said, holding back tears. "But it's difficult. We are very worried about them.
Helena Kozak, also present for the liturgy, said her cousin in Ukraine had called her earlier in the week fearing it would be the last conversation for some time.
"She wanted to talk to me while there were still communications (channels), when she could get in touch," Kozak said. "They are terrified."
In a Feb. 24 call with CatholicPhilly.com, Iryna Ivankovych said she was concerned for the safety of her mother, who runs a museum in western Ukraine dedicated to Cardinal Josyf Slipyj, the archbishop major Ukrainian Catholic who was imprisoned for 18 years under the Soviet Union.
"Our region is under attack from the air," said Ivankovych, president of the religious nonprofit St. Sophia in Elkins Park. "God keep us. I just wish I was there.
The Slipyj museum complex, located in the village of Zazdrist, "is now waiting for refugees from eastern and southern Ukraine," Ivankovych said. "We are open to welcoming them and offering them shelter. We have not ceased our activities.
The crisis has galvanized Ukrainian Americans, said Nicholas Rudnytzky, dean of academic services at Manor College in Jenkintown, a Catholic institution with long ties to the Ukrainian-American community.
The school issued a statement on February 24 denouncing the invasion and stating that "Moscow has a long history of denying Ukrainian culture and faith. …and now they're trying to do it again.
"It's nothing new," Rudnytzky said, speaking Feb. 23 by phone with CatholicPhilly.com. "The entry of Russian troops into (our) lands is a tired old story. We thought this chapter was closed, but… here they are back.
The latest attempt is based on "an illusion of Russian influence" on Ukrainian heritage, Rudnytzky said.
Despite his repeated assertions that Ukraine is historically Russian and Christian Orthodox, "Putin is making stuff up," Rudnytzky said. "Russian historiography has every interest in projecting this monolithic view, and Western research has become lazy (by simply accepting it)."
Western leaders also missed a crucial opportunity to prevent invasion by failing to impose "chilling sanctions" when Russia annexed the Crimean Peninsula from Ukraine in 2014, said Philadelphia chapter president Eugene Luciw. of the Committee of the Ukrainian Congress of the United States and member of Presentation of Our Lord. Lansdale Ukrainian Catholic Church.
"We let it all fester," he said. "We should have stopped this eight years ago. …I don't know why we're chasing our tail.
Kozak agreed, adding that she "fears for Ukrainians" of all faiths, including Catholics, Jews and Protestants.
"All religions are persecuted in the Soviet style," she said. "As Catholics, can we stand idly by?
Russian aggression will not stop with Ukraine, Kozak said, referring to Lutheran pastor Martin Niemöller's "First They Came" quote, which denounced German apathy towards the Shoah (Holocaust).
If left unchallenged and unchecked, the invasion will have "a domino effect", Rudnytzky said, pointing to China's efforts to reclaim Taiwan. "We shouldn't be surprised when the others fall."
Luciw said Putin "had his eyes set on controlling all of Eastern Europe", including Poland.
Amid the rapidly evolving crisis, Ukrainians around the world are "counting first on God's help, on his mercy", Ivankovych said.
"Our prayer is our number one weapon," she said.
Ukraine's independence in 1991 was achieved "almost miraculously" through prayer, Luciw said.
"God is with us," Ivankovitch said. "As Saint John Paul II would say, 'Do not be afraid. God is with you.'"