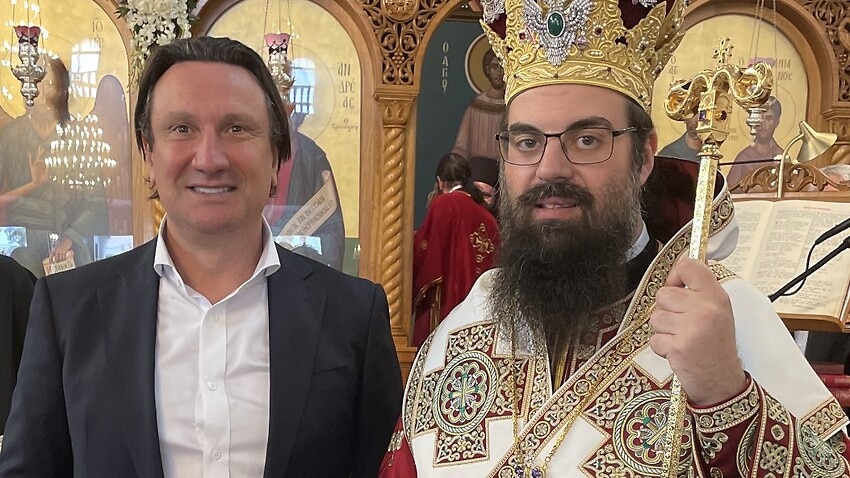 Joy and worry as churches prepare for Christmas services amid Omicron wave
But as the community prepares to attend church services and family reunions, there is still some apprehension as cases of the Omicron COVID-19 variant continue to rise.
Bill Papastergiadis (center) with his children Eleni (right) and Lee (left). Source: Provided
---
Mr Papastergiadis said being safe from COVID is of enormous importance to the Greek community in Melbourne, which has worked with state and federal governments to establish vaccination centers in church halls.
"QR coding is just as important. There's no [capacity] limits [in churches]," he said.
"Our priests are vaccinated and it is important to ensure that all services and events are maintained with the highest standards of protection."
Mr Papastergiadis said the closure of churches during the pandemic had a significant impact on the emotional and mental health of the community.
"The funeral took place under very limited circumstances," he said.
"The pain and sorrow that people felt not only being able to pray in a church, but also being isolated from other church members… had an impact on their belief system. [and] affected their social relationships.
Being able to organize services this Christmas has been a welcome relief for many in the community, Mr. Papastergiadis said.
"It has brought a feeling of joy and happiness to people's lives," he added.
"An expanded opportunity to reconnect and feel normal again, in these very abnormal times.
"There is now light at the end of the tunnel for the parishioners and for the community as a whole. "
Archbishop Makarios with Bill Papastergiadis. Source: Provided
---
Churches turn to technology
It will be another virtual Christmas for parishioners at Leichhardt Uniting Church in Sydney, as ministers work to keep their community safe as NSW continues to break daily national records for COVID infections -19.
Radhika Sukumar-White, a church minister, said many worshipers have been identified as close or occasional contacts.
She said the church has decided to be "proactive" and made the "difficult but wise decision" to cancel the events in person this Christmas.
"We have made the decision not to celebrate Christmas in person, given the numbers from COVID and many people who are considered close or casual contacts," Ms. Sukumar-White said.
"Our Christmas Eve services will be pre-recorded, then Christmas Day and all of our January services will be broadcast live."
Radhika Sukumar-White is a pastor at Leichhardt Uniting Church in Sydney. Source: Sydney Leichhardt United Church
---
In New South Wales, you are no longer required to be fully vaccinated or to show proof of your vaccination status in places of worship and face masks are no longer required.
NSW Premier Dominic Perrottet said on Tuesday that wearing face masks was "recommended" and that booster injections "were essential" to protect against COVID-19.
"Vaccination protects and saves lives," he said, adding: "It is time to put the balance back on personal responsibility.
Ms Sukumar-White said she was frustrated with the NSW government's decision to remove mask warrants and QR codes.
"There are some simple things I think we could do to reduce the spread," she said.
"The lack of leadership has been frustrating.
"Individual responsibility is one thing [but] … we kind of made our decision for our community.
Ms Sukumar-White said that she and her husband – both of whom are ministers at the church – will stream the church services live on Facebook.
"I happen to be able to play music and so I make music and we share the preaching and prayers," she said.
"People can comment on the service and I can offer these prayers live to anyone watching… to make it more interactive. "
She said that while it would be sad to watch the empty benches this Christmas, the well-being of her community comes first.
"Obviously preaching in an empty chair is difficult and sad, so there is some heartbreak for me and for the community," she said.
"But despite all of this, we still believe it is the best and wisest decision for us."