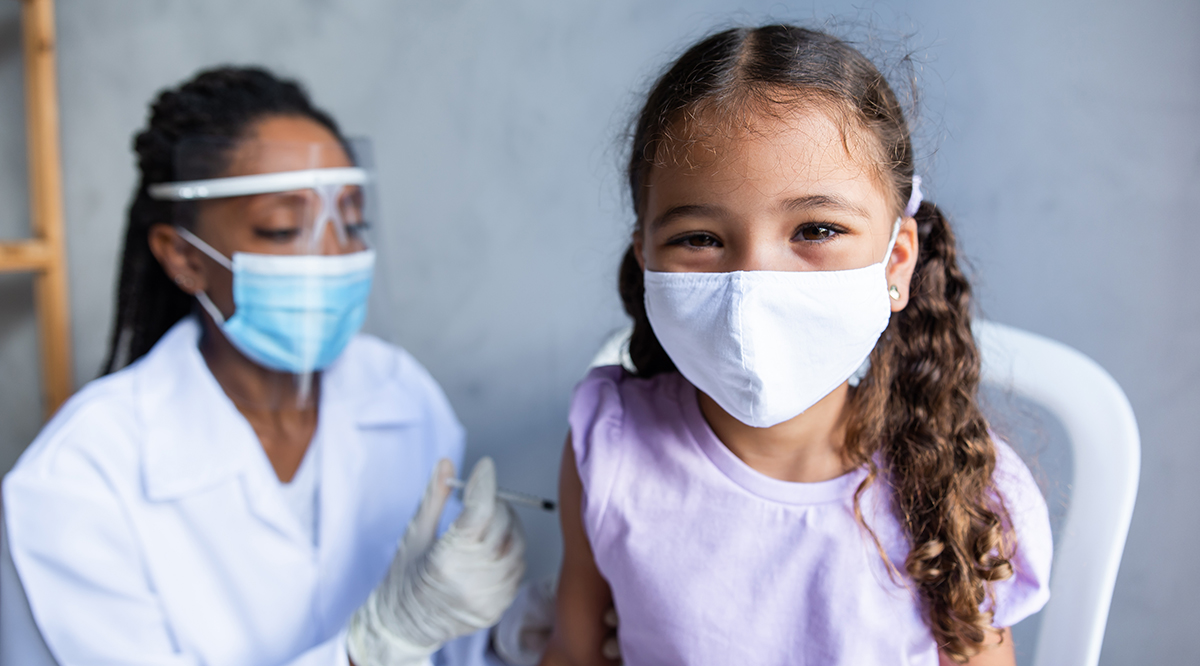 How distrust of childhood vaccines could lead to more outbreaks of preventable diseases
Early in the pandemic, millions of children in the United States missed routine pediatric appointments where they would have been vaccinated against diseases such as measles, polio and whooping cough, alarming many pediatricians and health experts. public health.
The latest data from the Centers for Disease Control and Prevention (CDC) show that most of these children have since received their vaccine. However, the national childhood immunization rate among kindergartners decreased by 1%, from 95% in 2019 to 94% in 2021.
"One percent may seem like nothing, but it's not nothing…when you put it in terms of the number of doses or children," says Kelly Whitener, JD, associate professor at the Center for Children and Families at the McCourt School of Public Policy at Georgetown University. .
According to CDC data, about 211,000 kindergarteners did not have all required vaccines in 2021, compared to about 201,000 in 2019, even with a 10% drop in enrollment in 2021.
Overall, the damage was even more severe. The World Health Organization announced in July that 25 million infants across the world did not receive life-saving vaccines in 2021. Although these declines were mainly due to disruptions created by the COVID-19 pandemic, public health experts fear the trend been exacerbated by the mistrust of vaccines that grew during the rollout of COVID-19 vaccines.
If that mistrust continues to grow, extending to routine vaccinations, public health experts warn the United States could see an increase in outbreaks of diseases Americans haven't seen spread widely in decades.
"It's getting harder and harder for me to convince people to get their kids vaccinated," says Jason Terk, MD, a pediatrician practicing in Keller, Texas. "We're going to reconnect with some of these diseases that we thought were history."
Preventable diseases
Modern vaccine science dates back to 1796, when Edward Jenner, now known as the father of vaccines, created the smallpox vaccine by injecting people with fluid from a similar, but milder, smallpox wound. The smallpox vaccine continued to develop over the next 150 years, and a successful global vaccination campaign in the mid-1900s led to the eradication of the deadly disease by 1980. Between 1900 and 1980 alone, smallpox a killed an estimated 300 million people worldwide and left many more survivors. healed.
In the late 1940s, health care providers recommended vaccination against smallpox, diphtheria, a serious bacterial infection that kills 5-10% of those infected, and whooping cough, or "pertussis," which can be particularly fatal for children. In the late 1950s, the polio vaccine was added to the list of recommended vaccines, bringing relief to many parents who feared their children would be paralyzed or die from this highly contagious pathogen. In the 1960s, vaccines against measles – which killed 400 to 500 people in the United States every year and caused brain swelling in about 1,000 Americans every year – mumpsand rubella have been added, helping to control, but not eliminate, these diseases in the United States.
Today the The CDC recommends children are immunized against more than a dozen preventable diseases by the age of 6. The 50 States and the District of Columbia require certain vaccinations attend school, most granting a religious or philosophical exemption.
About 2.2% of kindergarteners were granted an exemption from these requirements in 2021, and public health experts are concerned that public misinformation and distrust of COVID-19 vaccines, as well as the Political opposition to vaccine requirements only leads to higher exemption rates – creating fertile conditions. breeding ground for epidemics.
These will likely be seen first in communities that are ideologically similar and have lower vaccination rates, according to Terk.
"When people vote with their feet to bring their children together in communities of like-minded people who share the same values, you have a built-in, ready-made nest for preventable disease," he says.
For example, in 2019, the CDC recorded the highest number of measles cases since 1992, including one main focus in an Orthodox Jewish community in New York, where vaccination rates were low.
Although the United States has not yet seen an increase in measles cases, cases increase around the world because the COVID-19 pandemic has strained public health resources and delayed conventional vaccination campaigns.
In addition to pockets of vaccine hesitancy among like-minded communities, the United States has also seen an increase in vaccine mistrust in some parts of the country. In Texas, for example, conscientious exemptions increased from 0.45% of K-12 students in the 2010-2011 school year to 2.7% in the 2021- 2022, according to Data from the Texas State Department of Health Services. For private schools, the vaccine exemption rate for the last school year was 4.23%, but some schools are reporting even higher rates. A private school in Travis County, Texas had 43% of its student population exempt from at least one vaccine, while nearly 50 schools recorded more than 10% of their student population with exemptions.
Measles is so contagious that it requires 95% immunity in a community to prevent an outbreak.
"As community immunity declines, the risk of these types of outbreaks increases," says Terk. "The immediate impact is that people will get sick. … Most people who get measles have a self-limiting illness, even if they get quite sick. A percentage could have fatal complications down the road.
Low vaccination rates reflect more than just an ideological rejection of vaccines. The The latest data from the CDC also show lower vaccination rates among children who are uninsured, black, Hispanic, or living below the federal poverty line compared to those who are privately insured, white, or living at or above the poverty line.
"The [are] a number of factors are driving these trends, and it's not just vaccines," says Whitener. "It went through access to the health care system. Successful solutions should have a bigger picture.
Prepare for the challenges ahead
Paul Offit, MD, director of the Vaccine Education Center and attending physician in the Division of Infectious Diseases at Children's Hospital of Philadelphia, had hoped at the start of the COVID-19 pandemic that it would finally end the anti-vaccination movements who had wrongly claimed that vaccines caused autism and brain damage.
Instead, he was appalled to see the opposite happen.
"It invigorated them," he says.
In many ways, he fears that there is little scientists can do to reverse the trend of mistrust in vaccines.
"Academic institutions can answer scientific questions… [but] the majority are not [refusing vaccines] because there is a specific scientific concern," says Offit. "The data is there; the issue is this cultural issue" of distrusting government and federal mandates.
Rupali Lamaye, PhD, MPH, deputy director of the International Vaccine Access Center at the Johns Hopkins Bloomberg School of Public Health, also believes there will be ramifications down the road from continued vaccine resistance.
"I think that's going to be our future for a while. We are going to continue to see outbreaks," she says. "We have lost too much confidence in the face of the pandemic."
Now the focus must be on reaching individuals through their pediatricians and community leaders they already trust. For example, some COVID-19 vaccination campaigns have seen the success working with pastors in African American churches and in other faith communities.
Whitener says it's important to make sure doctors are trained on how to have culturally sensitive conversations with parents who are hesitant to have their children vaccinated and compensated for taking longer to vaccine advice.
But Terk worries that pediatricians like him will suffer burnout and hurt feelings if they start seeing more sick children with preventable diseases after their families have refused vaccines.
"We pediatricians are in the business of 'preventing bad things,'" he says. "It's discouraging when, in good faith, you try to do this work and you meet resistance from families. [But] the most important thing is to continue to engage and continue to recommend [the vaccines]."