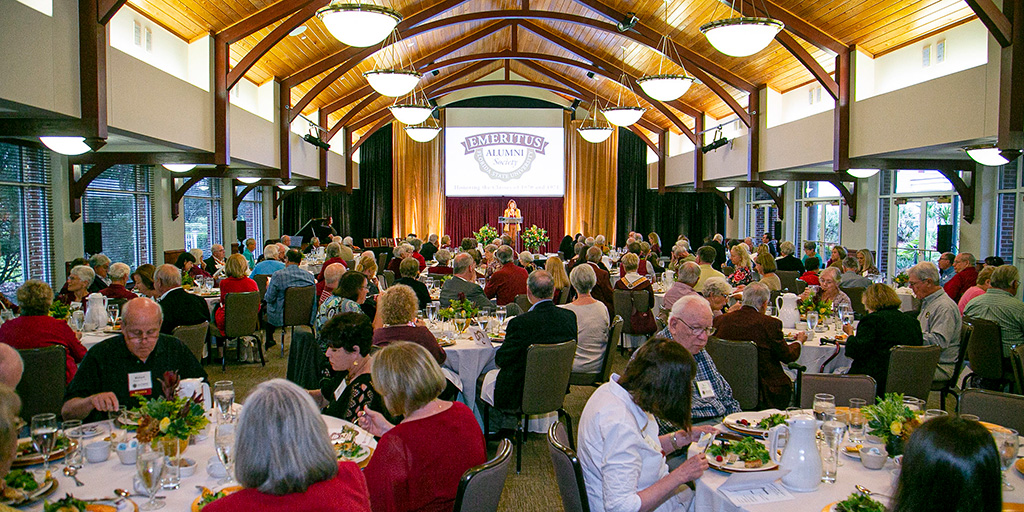 FSU Alumni Association to induct Class of 1972 into Emeritus Society during Homecoming Weekend
The Florida State University Alumni Association will honor the Class of 1972 at its annual Distinguished Alumni Reunion on Homecoming Weekend, Sept. 30-October 30. 2.
The Alumni Association will also honor five graduates with Alumni Society Distinguished Awards, which recognize individuals who personify the university's tradition of excellence through service and achievement.
The Emeritus Alumni Society, an Alumni Association constituency organization, encourages the continued interest and participation of Emeritus Alumni, who graduated from college 50 or more years ago.
"The Emeritus Alumni Society is delighted to welcome the Class of 1972 to Florida State University," said Eleanor Connan, President of the Emeritus Alumni Society. Our emeritus are going to enjoy all the incredible events we have planned for this homecoming.
The Emeritus Class have a full weekend of activities planned to celebrate their homecoming. This includes a guided bus and walking tour, welcome lunch, priority seating for the homecoming parade and football game, as well as the Class of 1972 induction brunch and awards ceremony. the Emeritus Alumni Society.
The Society encourages all Emeritus to join in, reunite with their alma mater, and relive their Seminole memories during Homecoming Weekend.
Tickets can be purchased here: https://gonol.es/EAS22
The 2022 Emeritus Alumni Society Awards recipients are Maxwell Carraway, Eleanor Connan, Gene Walden, Dr Cecile Reynaud and the late Jimmy Patronis Sr.
---
Commitment to Excellence Award
Maxwell Carraway (BS '70)
Max Carraway served as University Registrar from 1976 until his retirement in 2003. A native of Wakulla County, Florida, he earned his Bachelor of Science in Commerce degree from Florida State University in 1970.
He began his career in facility design and planning at Florida A&M University and was later hired at FSU, where he quickly earned a reputation as a problem solver.
The FSU Faculty Senate has requested that he be appointed Deputy Registrar with the special assignment of dealing with the overbooking of classrooms on campus.
In 1997, Carraway received the FSU President's Humanitarian Award. In 2007, the Max Carraway Employee of the Year Award was named in his honor. This latter award is presented annually to an employee who has consistently demonstrated empathy and service excellence to FSU faculty, staff, and students.
Carraway became involved with the Association of Retired Faculty Board after retiring from FSU. He held several positions on the board of directors before becoming vice-president in 2008 and president in 2009.
During his tenure on the board, he worked closely with the Office of University Relations to develop the docents program for the President's House, which opened in 2007. Docents are trained at the history of the house, the content and the donors who contributed to the project. After completing his service as Past President, he served on the Board of Directors as a Special Advisor. In this role, he liaised with the Office of the President, Provost and Vice President for Faculty Development and Advancement.
Eleanor Connan (BS '63)
Eleanor Connan, president of the Florida State University Emeritus Alumni Society, worked as a retail management and merchandising professional for 48 years, serving Burdines, Frost Bros., Neiman Marcus, Saks Fifth Avenue, and finally in as director of Chanel Inc. She retired in 2011.
Her philanthropic work throughout her career has included service with the Houston Symphony, where she served on the Board of Trustees and was part of the Conductor's Circle. She also served on the executive committee of the Houston Symphony League. She served on the board of trustees of the Museum of Fine Arts for its Apparel and Textiles division and on the board of trustees of the Moores School of Music at the University of Houston.
Connan received her bachelor's degree in marketing from FSU in 1963. She was a member of the Delta Zeta sorority and involved in the Gamma Alpha Chi and Phi Chi Theta business fraternities. She was a member of the Marketing Club, president and treasurer of the Women's Glee Club, a member of Fashion Inc., the Snowshoes and the University Singers, where she served as president of publicity and librarian. She was a junior councilor and member of the Sophomore Council, and she was inducted into Garnet Key for her outstanding leadership, service and spirit.
She and her husband, Andre, live in Tallahassee, enjoying their retirement. Connan is a strong advocate for music and the arts. She is a national patron of the Houston Grand Opera and a member of the Tallahassee Community Chorus. She is also incredibly supportive of Seminole Athletics as a board member of Seminole Boosters Inc., a Golden Chief, and coaching clubs for men's and women's basketball and the Softball Locker Room Legacy.
Gene Walden (BS '68)
Born and raised in Jacksonville, Florida, Gene Walden always knew he would be a "Nole". Walden entered Florida State University in 1964 and was an active student, participating in various clubs and a brother in Theta Chi fraternity. Walden graduated from the School of Criminology with his Bachelor of Science degree in 1968. After debut, Walden served in the U.S. Army as an officer until 1972. After returning to civilian life, Walden worked as a parole and probation officer in various Florida offices. In 1986 Walden returned to his hometown and founded McCurdy-Walden Incorporated, an industrial roofing company providing systems designed specifically for North and Central America.
Walden has continued to stay connected to his alma mater over the years. He was co-founder of the Seminole Club of Clay County, which was very successful and remains active. He is an active supporter of athletic and academic endeavors within the university, having donated over $400,000 to various causes.
Walden served the university as a member of the national board of directors of the FSU Alumni Association, including serving as president for two years during President Sandy D'Alemberte's transition to TK Wetherell. Walden also served as Acting President of the Association and a member of Seminole's Board of Directors and Foundation Board. He is a member of the Golden Circle and a life member of the Alumni Association.
Although retired, Walden continues to play an active role as Treasurer of the Emeritus Alumni Society. He is married to Mrs. Virginia "Ginny" Walden, with whom he raised four children: two boys and two girls. The couple have eight grandchildren, one of whom has already joined the Seminole family. Asked about his dedication to FSU, Walden said, "The answer is always 'yes' when it comes to Florida State. I will never be able to fully repay what FSU has done for me and my life.
---
Dean Eyman Award for Outstanding Service
Cécile Reynaud (MS '79, Ph.D. '98)
Cécile Reynaud was head coach of the women's volleyball team at Florida State University for 26 years. She won 635 games and seven conference championships. For 15 years, she was a faculty member in sports management, where she taught and acted as a student advisor for the master's program. She received her master's degree in 1979 and her doctorate in 1998 while coaching at FSU, from where she retired in 2015. She has held various national and international coaching and administrative positions with USA Volleyball, as Chair of the Board of Directors from 2018 to 2020.
Reynaud has coached at the World University Games, the USA Volleyball High Performance Championships, the FIVB World Grand Prix and as the head coach of the National Junior Team. She served as Assistant Competition Manager for volleyball at the 1996 Olympics, Head of Delegation for the USA Women's Sitting Volleyball Team at the 2012 Paralympic Games, and Team USA Volleyball junior men's ball at the 2015 world championship. She was honored in 2016 with the "Friar Award", USA Volleyball's highest honor. She was inducted into the Missouri State University Women's Athletics Hall of Fame in 1983 and the FSU Athletics Hall of Fame in 2009. She served as president of the American Volleyball Coaches Association and was inducted into the AVCA Hall of Fame in 2017. She was a founding board member and president of WeCOACH, a national organization dedicated to the recruitment, advancement and retention of female coaches in all sports and all levels.
Reynaud has served on the FSU Athletic Recognitions Committee, the FSU Varsity Club Board, as Chairman of the Board of Refuge House, and the Tallahassee and Leon County Commission for Girls and Women.
She has written several books, including "The Volleyball Coaching Bible Volumes I & II", "Coaching Volleyball: Technical and Tactical Skills", "She Can Coach!" and "The Winning Ways of Female Coaches".
---
Conradi Lifetime Achievement Award
Jimmy Patronis Sr. (BS '53)
Jimmy Patronis Sr., who died Jan. 9, 2020, at age 88, was a dedicated alumnus and lifelong supporter of Florida State University. He was born on January 19, 1931 in Tallahassee, Florida to Theo and Evangelia Patronis. He graduated in 1953 from Florida State University with a business degree. Although an FSU alumnus and die-hard FSU sports fan, he attended the University of Florida for a year and a half.
Patronis served as a captain in the US Air Force and moved to Panama City, Florida in 1953 to go into the restaurant business with his brother, Johnny. The brothers operated the Seven Seas Restaurant and later purchased the Captain Anderson Restaurant, which his family still owns. Patronis knew the value and lessons of hard work and will long be remembered for the many first jobs he gave to so many in his lifetime.
Patronis was an active member of the Florida Restaurant and Lodging Association, Panama City Chamber of Commerce, Beach Rotary Club, Florida State Booster Club, and former owner and manager of a local bank. Together, he and his brother proudly donated land for Patronis Elementary School in Panama City Beach. He also co-founded the Greek Orthodox Church of St. John the Theologian. He was honored with an appointment as an archon, the Order of St. Andrew, the church's highest honor given to a lay person.
For 61 years he was married to the love of his life, Helen Cleondis Patronis. They had four sons, seven granddaughters, three grandsons and two great-granddaughters.